Today I am going to review the book Personal Development for Smart People: The Conscious Pursuit of Personal Growth
by Steve Pavlina. Steve is one of the most successful blogger on personal development and growth. Steve transitioned from running a Computer games business to running a highly successfully personal development website that attracts more than 2 million people monthly!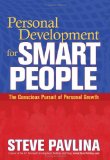 Steve Pavlina has had a great influence on this website and has been one of the inspiration to start this website. Bharatanatyam is my passion and through his writings, we were inspired to start a blog that is before you.
I think he is a great inspiration for all of us who want to follow their passion and not be caught up in daily life of earning an income through a regular job. This applies more to Arts where we need to take great effort to follow it as a career and then earn income from it.
Steve's book "Personal development for smart people" is another great contribution to the personal development space. There are numerous books and media in this area but the practical and simple approach that Steve takes is truly refreshing. You can instantly relate to the direct and practical approach which has made his website popular to the global audience.
The book attempts to distill the universal principles for personal development. Many of these principles have been part of the ancient Indian scriptures and Steve has done a great job of summarizing and presenting the salient principles in an easy to read format with good practical examples. As per Steve, the three fundamental principles for personal development are:
1. Truth
By this principle, he wants to encourage us to discover ourselves and the true nature of reality. This helps us to set the right goals and move to a more fulfilling life. Some time back, like most of us, I was chasing an MBA and wanted to land a job at a multinational company. Finally I managed to land a good job with one of the distinguished Indian IT companies but soon realized that this was not what I really wanted. As the book rightly mentions, the social and media conditioning drives us away from the truth.
Looking back, I realized that I needed to look inward and follow my passions and skills. I decided to enhance my dance skills and started compiling information on Bharatanatyam. As I started compiling information for my study, it came to my notice that there was no website that was providing Bharatanatyam lessons. And that was the beginning of Onlinebharatanatyam.com.
Are you following your Truth? Steve has got an exercise for you to make a self assessment. This is part of the sample chapter you can download from Stevepavlina.com.
2. Love
As per Steve, Love is the ability to connect with choice. The choice we make with whom or what to connect decides the quality of our life. Once I made my choice to start the website, I have magically been attracted to and have connected with many people who have helped and encouraged me to grow this website. With so many emails and message send by the readers the purpose of my site is already seen coming true. I feel very satisfied with whatever I am doing. Now my work is no more work..it is a work of love.. a joy to do!
3. Power
Power is the ability to consciously create the world we want. As the ancient Indian scriptures say "God who has forgotten his true nature is man and man who discovers that is God"! It is up to us to take responsibility for the world we create and provide the right thinking to build your power. This is an area I am working on by staying focused on what I want to do.
Steve goes on further to derive secondary principles which are the combination of the above.
Oneness = Truth + Love
Authority = Truth + Power
Courage = Love + Power
And finally, Intelligence = Truth + Love + Power
So a harmonious alignment of the fundamental principles form the escence of human intelligence. We grow as human beings and become more intelligent as we align with these principles.
Overall, this book is an easy and good read. I would recommend reading his website and the book which can lead you to many 'aha' experiences that can be life changing.