Srikanth Natarajan, One of the most sought after Bharatanatyam performers would be offering two workshops during the upcoming summer break. The workshop would:
Introduce you to complex rhythmic patterns in Indian music
Prepare you for dance competitions and performances
Be a fun and rewarding  experience and a chance to meet with a pro.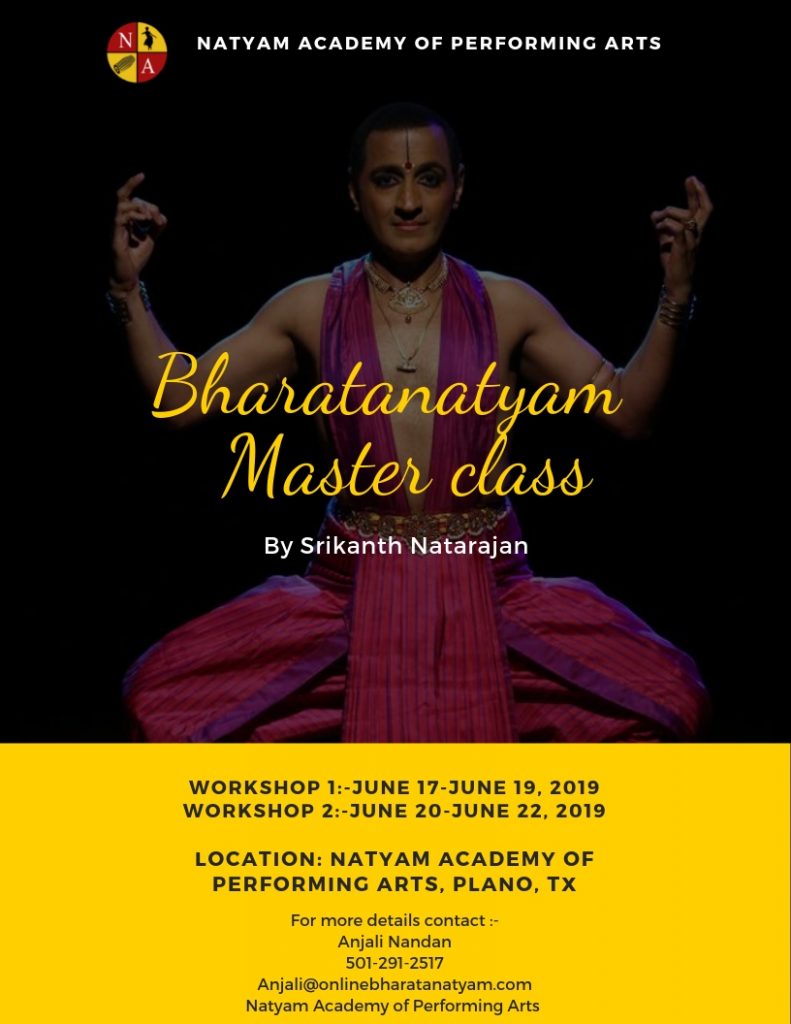 Workshops will be held in Plano, Texas These workshops will be held through June 17 to June 22, 2019. We have two workshop. Students are welcome to join both.
Workshop 1:- June 17 to June 19 
Thillana
will be taught in this workshop.  Thillana is a joyous dance filled with complex rhythmic passages and beautiful poses, emphasizing both movement and silence in time. The rhythmic passages are created to complement and enhance the melody, creating a perfect blend of melody, rhythm and movement.
Workshop 2:- June 20 to June 22
This workshop focuses on
Keerthanam.
They are expressive Bharatanatyam dance characterized by the devotional mood called bhakti, it evokes. Keerthanams are usually medium tempo and is usually portrayed as a combination of brisk nritta and subtle bhava.
Class size
We will only have
8 students per workshop
. Only
16 spots are available
. All registrations are due by May 1, 2019. The cost of
each workshop is $350/-
. Each workshop is
3 days duration with 3 hour sessions each day
. Parents  have also asked me about enrollment for both workshops. There is 
10% Discounts for enrolling in both workshops before
23rd April
2019 (ie a week from now). You can pay via Bank transfer or Check payment. Please call me to check which session to enroll.
Call or email
Anjali Nandan 501-291-2517
[email protected]
About Srikanth Natarajan
Srikanth has been a regular performer in the sabhas of Chennai and has performed all over India, Andamans and abroad, in Thailand, Europe, Malaysia, Indonesia, Norway, Canada, the U.S.A, U.A.E, Singapore, Egypt, Reunion Islands, Mauritius, East Africa, etc. Srikanth is a graded artist of Doordarshan and an empanelled artist of ICCR. Srikanth has trained under several illustrious Gurus, including Sri. Shanmugasundaram Pillai, Dr. Saraswati, and Dr. Padma Subrahmanyam. He is sought after for performances and workshops around the world and is coming to us. DVDs performed by the duo Srikanth and Aswathy and produced by Swathi's Sanskriti series:
Kavadi Chindu
Mohiniyattom
Thiruchengottu Ardhanareeswar Kuravanji.
Hastas and bhedas