Lakshmi: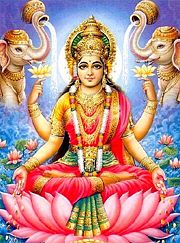 She is the goddess of wealth and prosperity. Lakshmi is thus worshiped as means to achieving objectives, including prosperity in the lives of mankind both material and spiritual. She is a consort of Vishnu and is also seen as massaging lord vishnu's feet who rests on the shehsa naga (coiled snake). Most of the time she is seen seated or standing on the lotus in a red garment with jewels and ornaments. Cascades of gold coins are seen flowing from her hands, suggesting that those who worship her gain wealth. Her four hands represent the four ends of human life: dharma or righteousness, "kama" or desires, "artha" or wealth, and "moksha" or liberation from the cycle of birth and death. Two elephants are often shown standing next to the goddess and spraying water. This denotes that ceaseless effort, in accordance with one's dharma and governed by wisdom and purity, leads to both material and spiritual prosperity.
With reference to dance, abhinayadarpanam says,
Amsopakanthe hasta bhyam kapityashtu shriyaha karaha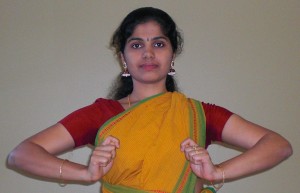 Lakshmi represented by holding both hands in kapitta hasta close to the bosom.
She is also know in eight other forms like Adi lakshmi, Dhanyalakshmi, Gajalakshmi, Santanalakshmi, Vijayalakshmi, Vidyalakshmi, Dhairyalakshmi. All these form can be shown with different gestures.