Ganesha: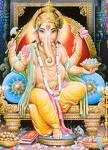 Ganesha, Gajanana, Vinayaka, eka danti are some of the names he is known as. In the shiva purana it is said that Goddess parvati created ganesha out of the dirt of her body while bathing and assigned the task of guarding until she finishes her bath. Meanwhile lord shiva returned and was furious as he saw a stranger boy would not let him enter. In anger he cut off the boys head. Now parvati was grief struck and pleaded to bring back her son's life. Thus shiva ordered his men to bring the head of a sleeping being who faced the north. As such they could find only an elephants head. Shiva restored the boys life and declared him as Ganapati (leader of his troops or ganas). This elephant headed god rides on a mouse. He is said to be a god of Wisdom and success and worshiped as one who removes obstacles of his devotees.
With reference to dance, the Abhinayadarpanam states
urogatabhyayam hastabhyam kapittyo vignaratakaraha
Ganesha is shown by holding kapitta hasta in the right hand, while the same hasta is held in the left hand, but facing downwards. Both the hands are held at the naval level.