Agni:
Agni is the Hindu god of Fire. He is the one of the presiding gods in the Vedas. It said that Agni along with indra (the lord of heaven) and surya ( the lord of skies) was considered the first trinity in Hinduism. In the later vedic period he became one of the Ashtadikpalas (gods representing eight directions). He is the lord of southeast direction. Agni is depicted as red, with two heads and seven hands and three legs. He is seen riding on a ram or a chariot driven by goats. His attributes are an axe, torch, prayer beads and a flaming spear.
With reference to dance, it is said
tripatako dakshinetuvamay kangulahastakaha
agni hastaha sa vigneyo natyashastra visharade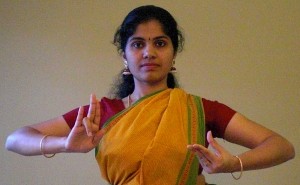 Agni devata is represented by the knowers of natya as holding left hand in Kangula hasta and the right hand in Tripataka hasta.