Tripataaka means "three parts of the flag". In this Mudra, all the fingers are held straight and close together like the stop sign except for the ring finger which is bent.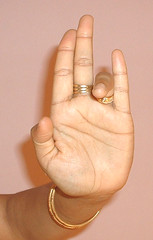 Let see the viniyoga shloka (uses)
makutay vrikshabhaveshu vajray tadharavasavay
ketake kusumay deepay vanhejwala vijrambhanay
kapotay patralekhyayam banarthay parivrtanay
yujyatay tripatakoyam kathito bharatouttamayhi
It says Tripataaka is generally used to denote the following:
makutay: A crown
vriksha bhaveshu: A tree
vajray: Thunder
tadharavasavay: Lord Indra (or gods in plural form)
ketake kusumay: Ketaki flower
deepay: A Lamp
vanhejwala vijrambhanay: Fire
kapotay: A pigeon
patralekhyayam: writing
banarthay: an arrow
parivrtanay: to transform
As we discussed earlier, this Mudra would be used in the Nattu adavu. It is also prominently used in Tirumanam Adavu.